Top 5 Brands Of Binding Machine – Check Before Buying
Binding machines are one of the most used products in offices and places where paper arranging is essential. When you have a bunch of papers and want to keep them in an organized manner, binding machines come in handy. They are popularly used in offices because there a lot of documents are processed every day. With a binding machine, you can also keep different documents separately and find them when required. You can arrange the most required documents and the least required documents by binding them and keep them separately.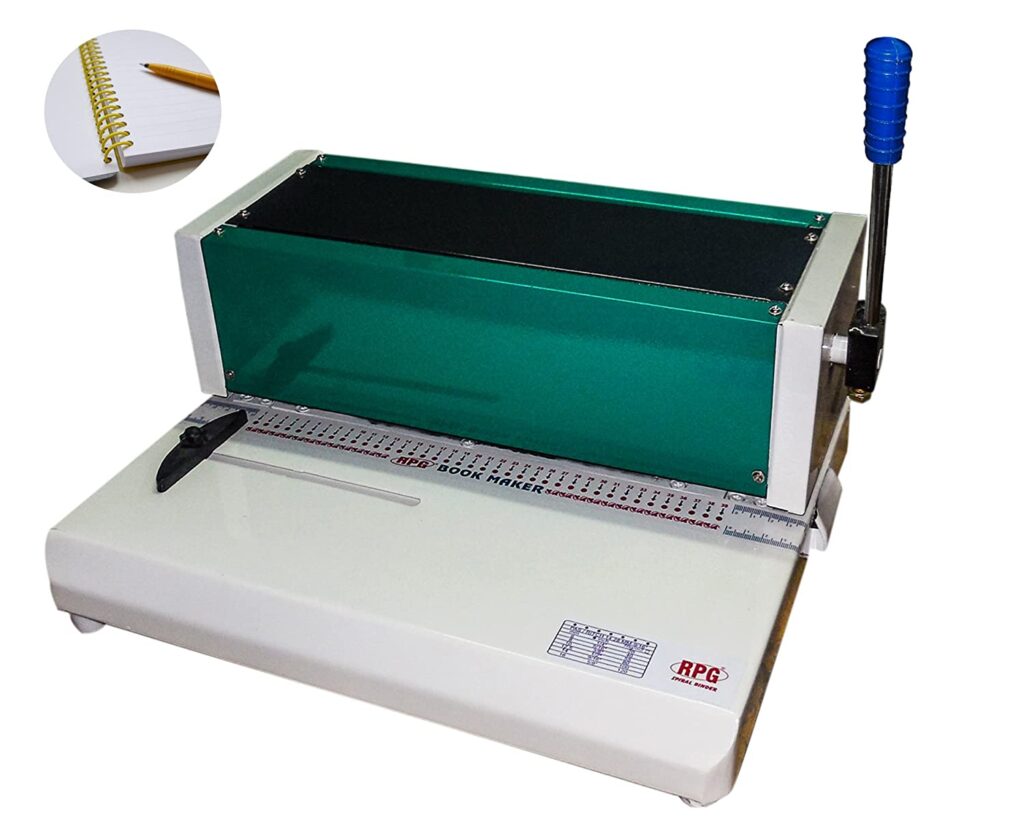 When you need these documents, you can find them without any hassle. On the other hand, binding machines are also helpful in schools and colleges for binding presentations, documents, etc. When these machines have a wide range of uses, you need to buy a binding machine that suits your needs. For this process, first, you need to know about the top brands of binding machines in India. Here are the top five binding machine brands that sell their products online.      
#1. Ars Tech Brand
Ars Tech is one of the popular brands in the Indian market that provide a broad range of products for offices in India. The brand is known for its quality and reliability. Its binding machines are made of extremely high-quality materials that ensure maximum durability. The main advantages of the Ars Tech binding machines are that they feature smooth operation and are very easy to use. Its binding machines come in different colors and specifications that meet the requirements of different people. These machines are widely used in bookbinding, press, and ring binding sectors. They provide high performance and ease the work of people. Ars Tech has binding machines for binding different sizes of papers so that people can use the one according to their needs. Some unique features of the Ars Tech binding machines are that they are durable, rugged, and high quality that fulfill the needs of every person. They come with excellent paper punching capability for a better experience. These binding machines can be used in small offices, schools, and colleges. 
#2. Skyflag Brand
Skyflag binding machines come with a range of unique features that enable people to bind their documents with no hassle. These binders feature a stylish and simple design that makes them easy to use. Those who need compact and lightweight binding machines for their use can consider using the products of this brand. The binding machines of the Skyflag brand have a user-friendly design, so they are safe and comfortable to use. They have a durable design and can last for a long time. Moreover, these binding machines come in a unique design for a better experience. The Skyflag binding machines are simple to operate and are suitable for students, schools, and small offices. Since they are available in a compact size, they don't need more space for storage. The Skyflag binding machines feature a time-saving design that allows you to bind all your documents in minimum time. They come with built-in size guides that help you determine the number of sheets while binding and bind your documents accurately. They include premium quality steel cutters for effective punching and binding. 
#3. RPGlami Brand
When it comes to high-quality punching and binding performance, the RPGlami binding machine is a perfect choice. The products of this brand are the choice of many people in India. It sells the best quality binding machines online. With innovative design and unique features, the RPGlami binding machines are good choices for any workplace. They can be used in offices, schools, or any other places where paper binding is necessary. This brand has a legacy of 25 years, which reflects in the quality and the performance of its products. It makes binding machines with standard quality controls that meet the requirements of different people. Moreover, the stylish design of these machines offers a pleasing look in any environment. The brand has binding machines for all kinds of binding needs. 
#4. Fellowes Brand
Fellowes is another top brand in the Indian market that produces different types of machines to fulfill the needs of different people. The binding machines of this brand are great for moderate use. They can be used in small as well as medium-sized offices effectively. These binding machines work on electricity and let users bind their documents effortlessly. There is a punching facility in these machines that feature vertical document loading to ensure high accuracy.  Apart from that, these machines are user-friendly and feature a unique design that improves the productivity of people. The built-in tools allow you to use the right size comb for a specific binding application. The Fellowes brand also offers long warranty periods to ensure customer satisfaction. These machines come with adjustable features so that you can customize their settings as per your binding needs. 
#5. GBC Brand
GBC is one of the top manufacturers of binding machines and provides the best quality machines at affordable prices. These machines are known for their matchless flexibility and features. The GBC binding machines come with user-friendly features that make them very easy to use. These machines are usually made of superior quality materials for better usability and long-lasting performance.  They come with reusable parts for the convenience of users. They allow you to rebind and de-bind your documents without any hassle. They support different sizes of documents and allow you to bind as per your needs. These machines are made to fulfill the requirements of different users. The convenient design and simple usability make the GBC binding machines the best in the market. 
Conclusion 
When binding machines are one of the essential devices in offices, they are available in different types. One needs to consider the types and other important factors when buying a binding machine for his/her needs. But knowing about the top brands in India that sell their binding machines online gives a detailed idea about these machines. So, we hope this guide will help you in choosing the right binding machine for your use.