10 Best Leather Bags In India 2022 [For Office Use]
These days work life has become a lot more complicated not to say rewarding too. Thinking back to our parent's generation where they probably graduated and went onto get a job straight away and were endorsed with retirement plans. This generation is seeing a new way to a career which is between streamlined and chaotic. There are entrepreneurial paths that we can take along and freelance ways that are gaining quite an attraction. And to sustain this life we obviously need to have products that make our life a lot easier and merrier to live. One major thing for office life and around is leather bags. Leather bags are one of the trendiest bags around and come along with strength and tensile power that helps to keep the laptop and other materials safe inside the bag.
Best Buy Leather Bags For Office Online In India
We here have rounded up the best of the lot in form of 10 of the best office leather bags in India. These can be sought from online and offline stores and are easily available across. We have picked them up based on a few parameters and a checklist which we will discuss down below after briefing on the products. Read along. Following is the list of the best office leather bags in India which you must have with you while going for a professional career. Let us look at them one by one
1. Hammonds Flycatcher Leather 15.6 inch Bag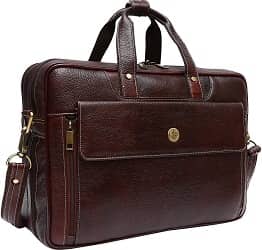 This leather bag from Hammonds makes the top of the tree for us and features impressive performance. It features 100% genuine leather and has a tough semi-full grain leather cutout bag. It comes with two-tone leather and has a top layer of buffalo skin. This bag has been made encompassing 12 complete process that gives an inherent characteristic to the bag. It is perfect for any kind of situation be it personal, professional or college. It has a high-quality zipper and slider and comes with one slider and zipper on the front pocket. It also has a laptop compartment on the inside. It has a special enhanced form of fabrics and comes with non-woven nylon tape and features handle straps and has shatterproof foam on the inside. It also has 2 of the antique plated dog hook and comes with antique de on the side for holding the handle and straps.
Features
It comes with impressive-touch semi-grain leather.
It has a high-quality zipper and slider.
It comes with enhanced fabrics and non-woven nylon tape.
2. Sassie Leatherette 12 LTR Office Bag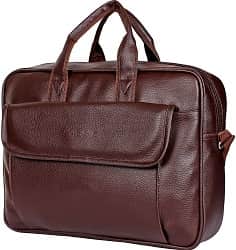 Next up we have the one from Sassie in form of Leatherette 12 LTR brown office bag. This one is one of the top-selling ones and comes with water-resistant feature. It has a synthetic material to the outside and features a capacity of 12 liters. It also has dedicated laptop compartment which comes with the capacity to store up to 15.6 inches of laptop. It has a polyester-based inner material and has zip lock on the front. It is pretty lightweight at 699 grams yet is extremely durable. It has a value for money aspect as it is priced pretty elegantly. It is perfect for office or professional usage and can also be used for college part.
Features
It has a water-resistant feature.
It comes with synthetic material covering.
It has a polyester-based inner lining.
3. The Clownfish Vegan Leather 14 inch Briefcase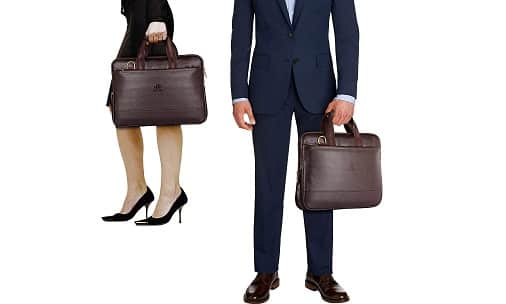 At number three we have the one from Clownfish with their vegan leather bag. This one is a slim briefcase that can be expanded for as and when required for. It has a soft and premium quality fabric on the inside and is integrated with the use of sturdy metal fittings. It has an expandable design and has an organized design aspect which can increase the width from 3 cm to 6.5 cm. It also has dedicated space for keeping aside all the things like laptops, cards, phones, tablets and more. It can house laptops until 14 inches and comes with a practical design that helps to be convenient in your professional life. It comes with one year of warranty.
Features
It has a slim built which can be expanded as and when needed.
It is a vegan bag and has organized space for everything.
It has a practical design and is perfect for professional life.
It comes with one year of warranty.
4. Hammonds Flycatcher Leather 13 Inch Bag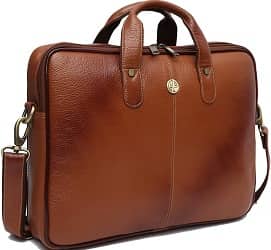 Next up we have the one from Hammonds making another entry into our list with their fine genuine leather piece. This one comes with a flycatcher sub-brand tag and is a 13-inch messenger bag. It has a Bombay brown NDM leather used for it and features 2 compartments and 1 zipper pocket on the inside. It has a laptop sleeve on the inside for housing the laptop. It comes with an adjustable shoulder strap and also has twin grab handles with it. Its brown color gives perfect radiance and feels to professionalism and college life. It is further powered with six months of warranty from the domestic manufacturer. It is pretty lightweight at 599 grams and has value for money aspect.
Features
It comes with fine genuine leather.
It has a Bombay brown NDM leather.
It comes with 2 compartments and a zipper pocket.
It has six months of warranty.
5. K London Leatherite Tan Unisex Bag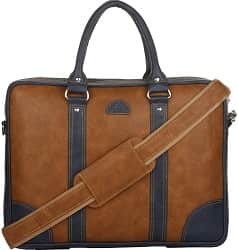 Next up we have the one from K London with their Leatherite based handmade bag. This bag is a messenger bag that comes with a perfect laptop compartment with it. It's a professional and a perfect office going bag and comes with a carrying size that can hold multiple documents and necessary materials. It has artificial leather on the inside with an elegant look and features a high-end finish. It has two additional zippers allowing for the storage of the laptop charger and mouse along with other options. It is handcrafted in the studio of K London in Delhi and features a perfect blend of design and craftmanship paired into one. It is pretty slim and easy to carry around.
Features
Perfectly crafted with space for a laptop and other necessities.
Elegant look and a crafty finish
Two additional zippers allowing for extra and dedicated storage.
6. Blowzy Leather Messenger Bag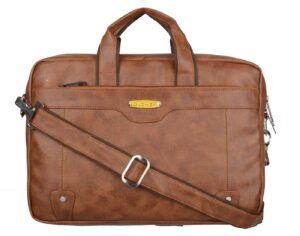 Placed at the sixth number in our list is the perfect office leather bag from Blowzy. This one is a messenger-designed bag and comes with a compact size option and has a perfect space for managing the staff and equipment. It is easy to carry around on daily basis and is suited for professionals. It has a couple of spacious compartments where there's a well-organized front pocket that keeps the belongings in an organized manner. The compartments allow for the storage of the laptop and tablet along with other options like hard drives and documents. It has an adjustable type shoulder strap and comes with twin grab handles. It features an artificial based leather design giving it an elegant look and a high-end finish it. It sports a strong and premium-based fabric lining on the inside and is one of the top sellers of the market around.
Features
Compact sized design
Spacious and dedicated compartments
Adjustable strap and twin grab handles
Artificial leather design with the high-end finish
7. K London Men Laptop Shoulder Messenger Bag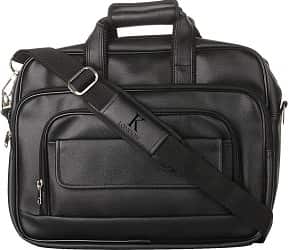 Another entry from K London in our list, this one comes with pretty savvy features which makes it quite a crowd favorite of the lot. It's a messenger-based bag and comes with laptop compartments in it with dedicated space for laptops, tablets, chargers,s and more. It has an artificial leather-based design and features an elegant look and a high-end finish it. It has a strong and premium fabric lining on the inside and sports 2 additional zip pockets. It has a pouch pocket on the front and has an adjustable and detachable shoulder strap which also comes across as padded ones. It is also handcrafted by K London at their studio across India with high-quality markers.
Features
Messenger bag with dedicated space.
Elegant look and high-end finish
Premium fabric lining and detachable shoulder strap
8. Thames by Lioncrown Faux Leather Laptop Bag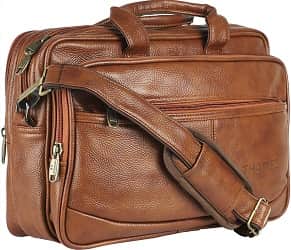 Next up at the eight spots in our list is the one from the Thames featuring Lioncrown Faux leather. It has a pretty intriguing and eye-catching look depicting a professional outlook to it. It comes with a dimension of 20×11.9×2.7 inches which makes it a perfect endeavor for your laptops and tablet across. It comes with a dedicated laptop sleeve of 14 inches space and is padded. It also has the expandable option for extra storage and features 3 compartments. It comes with an adjustable shoulder strap and has a front pocket smart organization that is suited for pens/pencils and phones if that's what you are looking for. It has heavy-duty metal and alloy fitting and has a long-lasting durable fabric design.
Features
3 dedicated storage compartments.
Adjustable shoulder strap
Front pocket organizer
Heavy-duty metal and alloy fittings.
9. Hammonds Flycatcher Leather Office Laptop Bag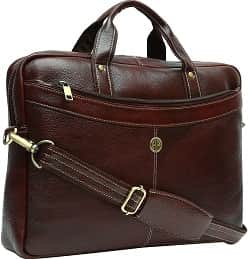 For the ninth entry into our list, we have the one from Hammonds making another entry over here. Hammonds has the perfect blend of office leather bags and this one is no stranger to it. It comes with a premium pure leather piece and is made out of 100% full-grain leather. It ages well and becomes more acute and good over time. It features a two-tone-based leather and is made out of 12 complete processes outlining its performance of it. It has an interior compartment with a front pocket and comes with zip for an added layer of security. It comes with a fully lined interior and features dedicated space for Ipad, tabs and more. It has one year of warranty on the product.
Features
Premium pure leather piece.
Made out of 100% full-grain leather
Two-tone based design
Interior compartment with front pocket
10. Handcuffs 16 Inch Laptop Bag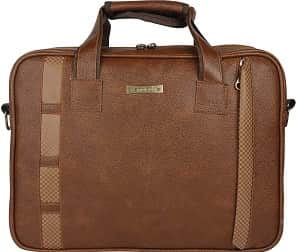 Rounding up our list is the one from Handcuffs brand with their impressive piece of the laptop messenger bag. This one is a faux leather bag and comes with waterproof solutions. It has a non-toxic and eco-friendly design which allows for long time usage. It has a large size which makes it perfect to store even a 15.6-inch laptop. It has a long and wide shoulder strap of a satchel bag which can be adjusted to help keep you comfortable. It has a crossbody and messenger bag-based design and features detailed inner space allowing for greater storage. It is pretty versatile and is great for office purposes.
Features
Made out of faux leather
Embedded with waterproof solutions
It comes with long and wide shoulder straps.
Crossbody design for easy handling
How To Choose a Right Leather Bag For Your Office
In order to buy the right leather office bag, you need to take a look at some of the major factors and parameters that govern it. We here cast an eye to these factors that make the decision much easier for people who are looking for a perfect office leather bag. Have a look at them.
First things first, it should be about the type of leather that is used along for the manufacturing of the office leather bag. Look for the ones made out of top-grain leather as that will hold the image even after for years and will last long. There are plenty of bags that are promoted as perfect leather pieces without really being anywhere near it.
Next up we look at the tanning process of the leather office bag as that affects the way bags will perform. There is two tanning process as chrome tanning and vegetable tanning and these tend to affect the pricing for it. Look for the ones with extensive process and performance patterns.
Here we look at the durability aspect of it. Durability matters a lot as you wouldn't want to have to invest in an office bag time and again. This is where the durability part kicks in. The best leather office bags are always durable and come with top performance. Look for the stitching and other parts and components like zippers to check whether they will last for long or not.
Handwork goes a long way in leather bags and they are often handcrafted and it is what gives them the leverage and the look for it. Leather is one magnificent piece that has plenty of artistry to it. Always look for the handwork in it and see whether it's artistic or not.
Color is another parameter that goes into before deciding on an office leather bag. Commonly there are different color options like black, dark brown, tan, and light brown options. The best-suited color for office and professional environment is black and dark brown as they tend to give a sense of authority and belonging. Tan and light brown color go forth to the more relaxed working environment. If you are to go a simple yet powerful statement-making option always goes for the black-colored ones.
We did talk about zippers above in the previous sub-head in this thread but we are also looking into a detailed aspect of it. It certainly deserves a view of such a note. An office leather bag has hardware that goes fitted into it in form of buckles, zippers, locks and more. You need to carefully examine each component to find out if that lasts long and is durable to perform. Spend some time investigating the hardware part of the bag and you can enjoy plenty of long-lasting performance from it.
The thing about straps is that all of the office leather bags come with straps to hold. They have adjustable shoulder-based straps if the bag is designed in a messenger way. This is what gives the leverage to hold it in your hands or over your shoulder with ease. Look for these straps and see the length of adjustment in it and also look for the way they perform and look when you're strapping it to your body.
Other than the points mentioned above, look for branded products and price parameters while going for an office leather bag. Also seek whether they offer value for money aspect or not as that will create an impact on the way the bag would give the returns on your hard-earned money.
How to Care for Leather Bag
By taking proper care of your leather bags, you can use them for years with no hassle. The following tips will help you keep your leather bags in proper condition.
Use the Bags with Clean Hands:
You should always keep your hands clean while handling leather bags to keep them clean. In general, leather bags absorb oil, grease, and other substances that touch them. So, if you use the leather bags with dirty hands, then the dirt on your hands can darken the bags and damage them. With time, this can lead to stained spots on your leather bags.
Don't Keep Damaging Items in The Leather Bag:
Leather bags are likely to get stained when you become a little careless. The items such as makeup kit, writing essentials, and other stationery things can damage your leather bags. So, you should keep these items in a separate carry pouch and then keep them in the leather bag.
Use Products That Are Made for Leather Items:
To clean your leather bags, you can use soft soap that is specially made for leather products. You can use this soap in a circular motion and then wipe the bag with a damp cloth. You should apply this soap twice a year to keep your leather bag in clean condition.
Moreover, you should use a leather conditioner to moisturize your leather bags instead of using other items. This will help prevent wrinkling and flaking.
Storing Your Leather Bags:
You should store your leather bags in proper condition to keep them safe from damage. You can cover the leather bag using bubble wrap or parchment paper to keep it in good condition. Further, you can keep the bag in the dust box and store it in the original box to keep it safe from dampness.
You should remove the stains from the leather bag when you notice them. This will keep the bag clean. Mostly, stains caused by blood and food can be cleaned using chalk powder. You can simply crush white chalk and put it on the stain. After 12 hours, you can clean it.
Keep the Leather Bag Dry:
Leather bags can get damaged when they come in contact with moisture. It can damage the shape of your leather bag and cause swelling over time. To keep your bags safe from moisture and water, you can stop using them on rainy days.
Conclusion
Having the best office leather bag creates a statement and allows you to gain better control over how you perform and carry around your work and stuff. There are plenty of things that come along with being a professional these days and they are in form of laptops, documents, and more. Your office leather bag should look into these factors and facilitate you with a managed and organized feel. That would make your professional life a stress-free impetus and will put you on the growth path.