How To Choose the Right Type of Binding Machines For Your Office?
In an office, a binding machine is an essential thing. It plays an important role in binding your documents and helps you arrange papers in the right way. Whether you want to keep those documents in the office or send them somewhere, the best binding machine will get your work done in minimal time and in a professional way. 
Tips To Choose Perfect Binding Machine For Office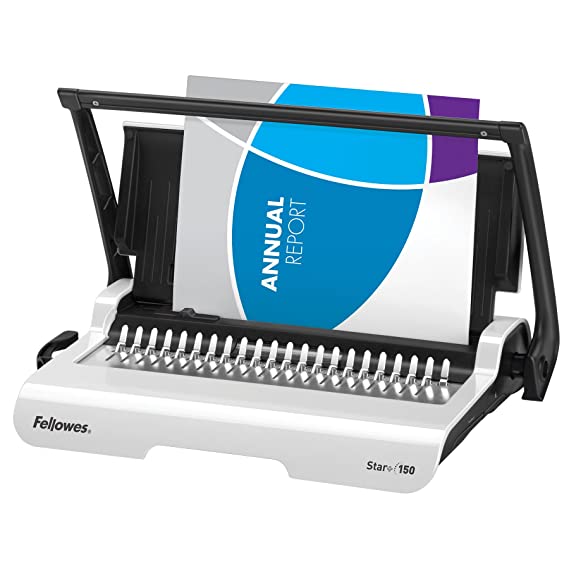 In general, binding machines are available in different types, and they use different techniques to bind documents. So, it is vital to choose the right type of binding machine for your office. To do that, you need to know about the different types of binding machines available in the market. 
This is the easiest and the most economical way to bind documents. If you need to bind a small book or fewer documents, comb binding is the ideal choice for you. This machine uses traditional plastic combs to hold the pages and form a book. It has a rectangular hole puncher for making holes. Usually, a comb binding machine makes holes on the left side of the documents so that those documents can be formed into a book using a plastic comb.
The advantage of this binding technique is that it lets open the pages flat for ease of reading and photocopying. Moreover, it lets you add or remove pages when needed. You can also turn pages up to 360 degrees. This method is ideal for binding individual documents, presentations, etc. This binding machine can come with an electric or manual punch. 
Wire binding is another popular binding technique used in offices. This method uses metal binding wires to hold the documents properly. This method is secure and non-editable. This means you can't add or remove pages to the book later. The wire binding machine usually makes holes on the left side of the documents and then binds them using wires. This binding machine comes with a manual punch, electric punch, or clamping device. 
The wire binding technique is the right choice for binding a large number of documents. It is an excellent option for financial documents or other documents that don't require editing. The wires used in this machine generally come in different colors. 
Spiral Or Coil Binding Machine 
Coil or spiral binding is one of the most preferred binding techniques in most offices. In this method, the machine punches holes on the edge of the documents and inserts a coil through these holes. Then a crimping machine cut the excess coil and crimp the edges of the coil to prevent documents from coming out. This machine uses plastic or metal coils to bind the documents. This technique is ideal for busy offices because it keeps documents secure. It allows you to turn documents 360 degrees and take photocopies easily. 
Thermal binding is an excellent way to bind documents for a professional look. As the name suggests, it binds documents using heat. This method is also widely used because it is very easy to use and provides a unique look to the documents. It generally heats the inserted adhesive strip and binds documents securely and permanently. This machine doesn't make holes in the documents because documents are directly fixed with glue. 
Thermal binding requires less effort and time to bind documents. It securely binds the documents and allows you to use them for stacking, mailing, or filing. In this binding method, you can bind up to 500 pages conveniently. The documents bound using a thermal binding machine provide a clean and professional appearance. This machine also provides different finishes to documents such as gloss, silk, linen weave, leather grain, etc. 
Strip binding is ideal for binding presentation documents securely. This machine uses a strip and prongs to securely clamp the documents. This binding technique is popular in the accountancy and legal sector because it is secure and easy to use. Moreover, it lets you remove pages or add additional pages to the book easily. It makes holes on the pages the same as a comb binding machine. 
A tape binding machine is used for making books from loose pages. This means you can simply turn your loose pages in the office into a professional-looking book using this technique. A tape binding machine uses an adhesive tape to bind the pages into a book. It is easy to use, cost-effective, and provides a clean look to your office. If you want to keep the loose papers on your desk arranged, you can use a tape binding machine. 
A click-binding machine is easy to use and binds A4 size papers effectively. It produces a stylish and professional-looking document for a unique look. The documents that are bound using this binding machine are 360 degrees rotatable for easy reading and photocopying. It also allows you to remove or add papers to the book at any time anywhere. 
Multifunction Binding Machine 
Multifunction binding machines usually combine more than one binding technique for the convenience of the user. By using this machine, you can bind your documents in different methods like coil binding, comb binding, wire binding, click binding, etc. This machine also comes with an electric or manual punch for making holes easily. If you want to use different binding techniques with minimal investments, you can consider using a multifunction binding machine. 
Conclusion 
As you can see, many types of binding machines are available in the market. These machines bind documents in different techniques and provide different kinds of looks. Moreover, some machines bind papers permanently, while others offer an option for editing the documents when needed.  Therefore, you can compare all types of binding machines available and then choose the one that will fulfill your requirements. If you have a specific type of document to bind, then you can easily pick the right type of binding machine for your use. But if you are not sure which type of binding machine will suit your needs, you can consider buying a multifunctional binding machine because it will let you bind documents using multiple binding methods.