10 Best Projectors In India 2022 [For Office Use]
Earlier, whenever your boss talks about a business presentation, you should get ready to do a lot of work. In those days, presentations were drawn on the charts and that was the most tedious job for many employees. It was tough even to edit once a completed presentation, and it has to be done all the way again. Presenting that small piece of the chart to a huge audience was another tough task. But the latest advancements in technology have made life easier for many of us. You can make the presentations on your computer and Projectors can be used for presenting it to any number of audience. The projections made by the latest projectors are really vibrant and bright that you can keep a number of audiences engaged for a long time. Whether it is a small presentation in your conference room, or a presentation for a large audience, having a projector is a must for any office today.
Best Projector For Office Use In India
Projectors come with different features and designs, making it easy for you to pick based on your requirement. The projectors are not just used for business purposes, but also used for entertainment purposes at home. But there is a lot of difference between a home projector and a projector for office use, resolution and many other factors really matter. So, when you are choosing a projector for office purposes, make sure to choose the right one. If you are looking for the best projectors for your office, then we have made the list of top 10 best projectors for office use in India today. You can pick them for either online stores or at a store near you, but online stores offer you great deals on these projectors. This list is going to make it easy for you to pick one for your office as we have listed out the features of each projector and also made a buyer's guide, which includes the features to look for when you are buying a projector. Do not get confused about which projector brand to choose from so many different options available in the market. Here is a list of the best projectors and choosing one of these for your office can be a great idea. So, let us get started:
1. Epson EB-S41 SVGA Projector with HDMI Port

Epson is a very popular brand when it comes to printers. But Epson also has the best projectors in the market. Their projectors are in the market since 1942 and they continue to provide the best projectors in the Indian market. First in the list, we have this Epson EB-S41 SVGA Projector. This is a light weight projector and can be easily carried to any place of your choice. So, you can take this along with you on your business trips, without any problems. Usually, when you are choosing portable devices, you need to compromise with certain features, but it is not the case with the projectors. It comes will all the necessary features. It has 3300 LM brightness feature and this is one of the best features about this projector. You will be able to use this projector even when there is a lot of light. The projection size is pretty good as it can project up to 300 inches. You get great deals with a small and portable projector.
Features
Small and hence easily portable
3300 LM brightness for better projections
Projection size up to 300 inches
Quality of video is 4K
Also check: 7 Best Presentation Pointer For Office Use in India
2. Egate I9 Miracast Led Hd Projector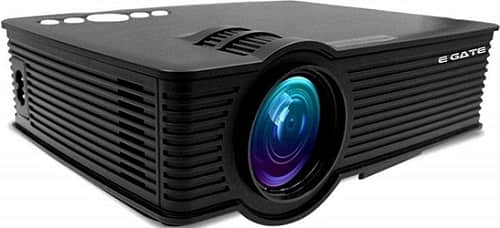 Egate is another good brand to go for when you are looking highly efficient projectors. This brand makes projectors that are perfectly suitable for the Indian market, in terms of quality and price. It has 1500 LM brightness and hence there is no too much stress on the eyes even when there is a little light in the room. The screen is large – 120 inches. You will be able to enjoy a better projection with that screen size. The life of the LED is 30,000 hours for an uninterrupted projection experience. You will be able to connect to the projector with multiple devices like SD Card, AV, VGA, HDMI, USB and also audio output feature. One of the best features that is suitable for the Indian climate is, it is dust and heat resistant. That means, even during high temperatures up to 50 degrees you will still be able to enjoy uninterrupted experience. The screen does not fluctuate at all.
Features
It comes with one year warranty
Dust and heat resistant up to 50 Degrees
120 inch screen size
The lamp life is 30,000 hours
Supports multiple input devices.
1000:1 contrast ratio
3. Myra TouYinGer X7 Led Projector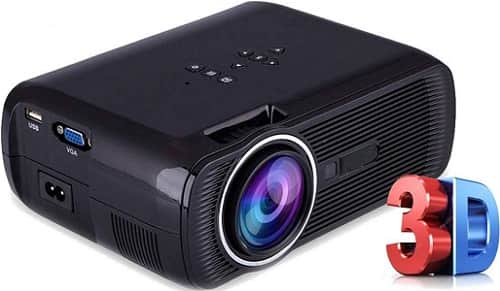 Even a small scale business owner needs a projector and if you are a startup company, then you must be looking for something in lower budget. Your search for lower budget projector ends here. Myra TouYinGer X7 LED projector comes at a very low price, but with some interesting and useful features. This projector is suitable for both home use and office use as well. The screen size of this projector is approximately 37 to 130 inches, making it perfect for office use. The best feature of the projector is it displays 16.7 different colors on the screen. Different formats of audio and video are supported by this projector. Another important thing about this projector is it supports 3D projections as well.
Features
The focus of the projector can be adjusted manually.
Two color options available, both white and black
37 to 130 inch screen size
All the buttons are present on the top of the projector, making it easy to use.
1800 LM brightness for projection even when light present.
Supports 3D videos as well
Suitable for home use as well.
4. WZATCO S4 Improved Full HD 4KLED Projector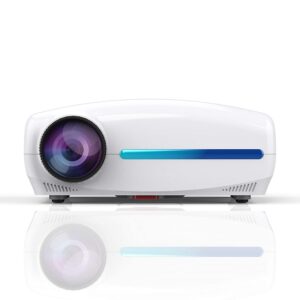 Next in the list, we have WZATCO S4 Improved Full HD 4KLED Projector. This is an 800 LM brightness projector. Along with business presentations, you can also enjoy it at home for watching movies, use it like home theatre and also for playing games on the big screen. The image size ranges between 36 to 130 inches and hence definitely a good and clear image. This projector is compatible with Windows 8.1, Android 4.2.2 and also IOS 6.0 and all others versions above this. This is definitely one of the best projectors from UNIC brand. You have different connectivity options like Audio-out port, video port, Slot for SD card, USB slot and HDMI slot as well. The life of the LED light is 20,000 hours, which is definitely a good amount of time.
Features
Presentation and entertainment on the big screen.
20000 hours LED light life
Compatible with different kind of OS
Different connectivity ports for connectivity through different input devices.
Lower price
800 X 400 resolution
800:1 contrast
5. Everycom X7 LED Projector
Everycom brand is one of the bestseller projector brands in Indian market. When compared to many other brands available in the present market, you get Everycom projectors for cheaper rates, but with best features. This Everycom X7 LED projector is one of their best projectors in the market. This is light in weight projector and you can easily carry it from place to place. The best thing about this projector is, this projector comes with two year warranty, unlike others that come with just one year warranty. This projector has 1800 Lumens brightness and this is definitely something that you will not be able to get at this price. The 120 inch screen size is also an added advantage of buying this Everycom projector.
Features
Screen size varies between 37 inches to 120 inches.
Comes with two year warranty
1800 Lumens brightness
MP3, AAC and WMA audio formats are supported.
VOB, MKV, WMV, MJPEG, AVI, DIVX, FLV, VC1, MOV, RM, RMVB, H264, MPEG2, MPEG4 and MPEG1 video formats are supported.
Supports video games
20,000 hours LED lamp light
Built In stereo speaker facility
The process of installation is quite easy.
6.

Qawachh T6 Full HD WiFi Projector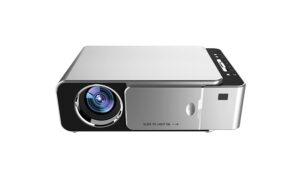 One more projector for office use at an extremely low price. This Qawachh T6 Full HD WiFi Projector is an 800 Lumen projector with extremely good quality projections. This is a small and portable projector for both office and home use. This is a mini projector, but it has an LED light life of 50,000 hours. The resolution of this projector is 800 X 480 pixels. This projector consumes low power and hence saves you a lot on electricity bills. This projector is good for the Indian climate as the temperature is pretty high sometimes. This projector is resistant to high temperatures.
Features
You can manually focus the lens
It has a three-piece lens
800 Lumens brightness
800 X 480 resolution
Easy connectivity with AV, audio jack, HDMI, USB port, and VGA as well.
Four Inch, LCD TFT projecting system
Resistant to high temperatures as well.
The screen size is 20 to 80 inches but gives a clear picture.
1080 full HD inputs
7. EGATE i9 LED HD Android Wifi Projector
We have another projector from Egate brand. Egate i9 LED HD Android Wifi Projector is the latest projector from the brand that works on Wifi. The resolution of this projector is 1920 X 1080, which is really high. This high resolution will give you the best images and videos. High-resolution projectors are always preferred as they also protect the eyes from any kind of damages. The screen size is 120 inches and this quite large screen for better viewing experience. There are a number of options available for you to get connected like SD card, AV, USB, HDMI and VGA as well. The brightness is 1500 Lumens, making it good projector even with light present in the room. The LED lamp life is 30,000 hours, which gives you continuous viewing experience. It also comes with 8 GB ROM and 1 GB RAM.
Features
30,000 hours LED lamp life
1500 Lumens brightness
Comes with one year warranty
Comes with Wifi, 8 GB ROM, 1 GB RAM, Quad-Core, and Android 4.4 software.
Supports Full HD 1920 X 1080 resolution
120-inch screen size.
Resistant to dust, fluctuation, and heat
8. Zebronics Full HD Home Theatre Projector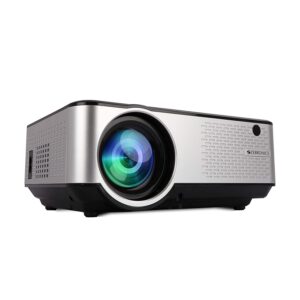 Another popular brand in India, that manufactures projectors at a very affordable price is ZEBRONICS Full HD Home Theatre Projector. This ZEBRONICS Full HD Home Theatre Projector with Wifi facility as well. This is resistant from heat and is considered to be best in the Indian climate. It has cooling fans that can efficiently keep the projector cool for a long time. This is a 1000 Lumens brightness protector and can be used in office conference rooms and also at home for movie watching. You will be able to get the mini theatre experience with this portable projector. It comes with a built in speaker, which helps you enjoy the sounds. Also, you have jack to connect external speakers. The pictures are quite clear and bright as well. You get 50 percent extra brighter images when compared to many other projectors at a similar price. This does not make too much noise.
Features
Full HD projector
1000 Lumens brightness, but still you enjoy 50 percent better projections
Low noise levels
Cooling fans to keep the projector cool in the long run
20,000 hours LED lamp life
Built in speakers
9.

BenQ TH585 Full HD DLP Projector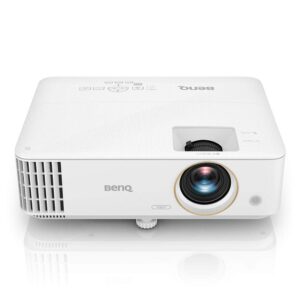 BenQ TH585 Full HD DLP Projector is another good brand in the Indian market. BenQ TH585 Full HD DLP Projector is a 2200 Lumen projector. This projector is available in two different colors, black and white. You can choose one based on your requirement. The screen size ranges from 37 inches to 110 inches. The resolution of this projector is 1280 X 720 optical. This is a full HD projector with high-quality images. It also supports up to a maximum of 1920 X 1080 resolution. Liquid crystal display 4.0 is the display technology. The LED lamp life is 30,000 hours. This projector is good for use at home as well.
Features
Screen size from 28 inches to 180 inches
30000 hours lamp life
Full HD projector
1280 X 720 optical resolution
1000:1 contrast ratio
2200 Lumens brightness
10. EG Display Home Theatre LED Projector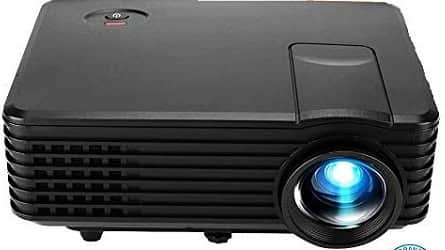 Last in the list of the best projectors for office use is EG Display Home Theatre LED Projector. The screen size of this projector is 60 inches to 120 inches. It has 800 Lumen capacity, which makes the viewing capacity really low, but it also makes it less heat when used for a longer time. The life of the LED lamp is 30,000 hours.
Features
LCD screen
Compatible with 3D
30000 hours of lamp life
800 Lumens of brightness
Resistant to heat
60 inches to 120 inches screen size
It comes with two year warranty
It is quite affordable
The light weight of the projector makes it easy to carry to anywhere
How To Choose A Projector For Office – Features To Consider
Projectors are very popular and everyone knows what it is. A projector will project the videos and images on a white background screen with the help of light rays. You will need a projector in almost all kinds of businesses and offices. It is not really tough to find a projector in the present market, but finding the right one for your requirements and in your budget is definitely a daunting task. There are certain features that you will need in your projector and we have listed the most important features that you should look for in your projector before you invest money on one of them.
Resolution
One of the most important features to consider while buying a projector is its resolution. When the resolution is high, you will be able to enjoy a better images and videos. If you check out in the market, you will be able to find even a projector with 4K resolution. But you need to check which one do you actually need and that can be decided with how far you will sit and what would be the size of the screen. 1080 P is a good resolution to go for.
Contrast and Brightness
The second factor to consider is the contrast and brightness. LCD projectors are considered to be the best ones compared to the other ones available in the present market. Having better brightness value can provide you good projections.
Screen or Wall
Whether you are buying for your home or your office, you should think about the clarity of the images. Many people when using the projectors do not like to invest on the screen and project the images on the wall. But projecting on walls will deduce the clarity of the images. It is always advised to use projector screens for better quality of images.
Audio
Another important features to consider when you are buying the projectors is the audio. Most of the projectors today have the inbuilt speaker stereo facility. This is going to give you maximum sound possible, but you may need higher sound quality. If you are looking for much better quality of sound, then try to buy projectors with 5.1 audio jack setup.
3D technology
Whether for your office or for home purpose 3D projectors are a good choice. Nowadays, there is a lot of content being produced every day. There are many films also available in 3D format only and hence it is important to have 3D projector to enjoy the 3D format. You will also need 3D eye wear to enjoy the 3D format videos on your screen of the projector.
Throw Distance
Another very important factor to keep in mind when you are buying a projector is the throw distance. You need to place the projector at a certain distance from the screen for a better view of the projected images. You should never place the projector too close to the screen or too far as well. But the latest technologies have always made things easy for us and the latest projectors do not have anything to do with the distance. With just a few inches distance, you can get an excellent picture with the help of ultra short throw distance projectors.
Projection size
The next factor that we have on the list is the projection size. It is one of the key features to consider. You will be able to find different models and brands with different projection size. You need to measure the size diagonally and it starts from 20 and goes up to 180 to 200. The distance between the projector and the screen is also a factor while calculating the projection size.
Warranty
Most of the projectors in the market come with a warranty period of one to two years. It is always good to go with the brands that offer you two years warranty. You are investing for a projector and having higher warranty period can be useful.
Connectivity and compatibility
Look for those projectors that are compatible and can be connected with the help of almost all devices around. You never know which device needs to be connected for the presentation or for watching a video. Most of the projectors come with SD Card, USB, VGA and HDMI connectivity.
Price Tag
Price is another important thing to consider. Lower prices will not give you all the latest features, but you will have most of the features in them. If you think you need something in a lower budget, then you can go for a projector with just the present requirement in your office. The latest ones can give you extra feature that can increase the life of your projector and the quality of your presentation. Having a clear idea about your budget will help you pick the right projector without any waste of time.
How to Set Up a Projector For Office Presentations
A projector can be a crucial thing for office presentations. However, it is essential that you set it up correctly and with desired settings. And if you haven't done it earlier, we will let you know how you can do this with ease with the step-by-step guide. Go through it and find the right way to use the projector for the presentations.
Step 1: Find the right projector for your needs
The first thing is to search for the right projector. Be sure to check the resolution, luminance, and other factors while purchasing a perfect projector for your presentation.
Step 2: Find the right place to install the projector
The next step is to choose the right place for installing the projector. Make sure to check the ideal projection distance for the projector and according to that distance, you can easily find the right distance at which you should install the projector. Apart from the distance, another important thing to consider while setting up the projector is the height of the projector. Be sure to check these two to get the perfect projection.
Step 3: Set up the screen
Set up the screen accordingly. Make sure to consider the distance of the screen, luminance, and other important factors to set up the ideal projection screen.
Step 4: Connect the projector with the laptop or PC
The next thing is to connect the project with the PC or laptop. This depends on the model of projector you have. Some projectors are needed to be connected physically to the laptops, and some have wireless connectivity. So whatever option you have, connect the laptop properly. If you are facing any issues in connection, you can refer to the user manual of the projector.
Step 5: Project a sample for getting the right alignment
After connecting the projector to the laptop, make sure to have a sample projection to check whether all the settings are okay or not. Also, if you facing some flickering or focus issues, you can fix them before the final presentation. This will help you deal with the last-minute hustle.
Step 6: You are ready for the final presentation
Once you have done all things correctly, you can easily move toward the final presentation. In order to get things correct, we will suggest to have a demo presentation before finalizing the settings.
Projectors Frequently Asked Questions
What to consider during the purchase of a projector?
While looking for a new projector in the market, you have to look at several aspects to determine that you get the best in class product. There are several great options available with 4K resolution, surround sound support, wireless connectivity, compact size, and smart apps options. These are some quirky factors that you can consider, but we also suggest you go with a reputed brand to avoid buying the wrong product and availing some of the best deals.
Why the Contrast Ratio matters while buying a projector?
Contrast ratio defines how much black is black as compared to the white. So, the manufacturer represents their contrast ratio, which lets you expect better video quality. If the contrast ratio is low, you can find that black color seems like grey on the screen and it poor your movie-watching experience. Movies with a dark or shady theme are hard to watch on such a projector. That's why you should always look for the contrast ratio to figure out a reliable option. Do not consider a projector that doesn't represent a contrast ratio on the package.
How to connect your wireless projector to a smartphone?
If you choose a projector that has the option to connect with a smartphone, then you can expect a higher rate of convenience. By downloading the smart connect app or using screen mirroring apps, you can connect your smartphone. Now, everything that you browse on your device will be in front of you through the projector. The quality of the stream might be an issue because there is a limited bandwidth that you can transfer while using a screen connect feature. However, it is reliable to prefer long term use and to get a better quality experience.
How many lumens are adequate for a common conference room projector?
While buying a projector, you can find that brightness is mentioned in the description section. It is usually mentioned in lumens, and it let you know about the brightness level. For a cinema, there is no leaking light into the hall, 1500 lumen seems effective. But, if you want to use a projector for a conference hall or in class, then you need 2,500 lumens, at least. This number will help you expect which projector is effective for your specific need and why you should buy them.
Should I Buy a 65-inch TV or a projector for a cinema experience?
LED TVs are getting cheap, and you can find an impressive variety of options for all kinds. From small sizes to immersive 82 inches LED TVs, you can find a range of options available in the market. During the purchase, you can find that projectors with the same configuration are expensive because you have to buy speakers separately, and there are other factors also. But, if you are looking for a proper cinema experience with great quality surround sound, then going with a 4K projector seems like the better deal over the other ones.
Conclusion
We hope that now you have some idea about what features to look for when buying a projector for your office. At the same time, we also have given you the list of top 10 best projectors in the Indian market for your office use. Picking up any one of them will definitely be a right choice as they are the best in the market now. You can also go through other models available in the brands listed above as they are some of the best brands in producing the best projectors. You should also consider your budget, especially if you are a start up company before you decide which brand to buy. There are projectors available in all budgets, but lower budget definitely compromises on quality. Checking for the projectors online can save you some extra bucks as there are a number of deals available on the internet for you. Get the best projector at best price today!