Best Office Chairs in India 2022 [Quality Chairs For Office]
Most of the people are working at offices in front of computers or laptops. They spend most of the time sitting and thinking about work. If you check the statistics, an average working person spends 40 hours per week at the office. This is lot many hours and we never care much about it. But if you calculate the same hours over the course of our lifetime, then the number is huge and we might conclude that most of our lifetime we are spending in office. Inspite of the fact that we are spending much time in office, we often spend our money and focus on the desk or laptop or something else and often ignore the office chair that we sit on. We just spend only a few bucks on the chair and often get some physical health issues which are related to bad sitting posture. So, it is important to shift our focus to the chair that we sit on. Be it office or home office setup, you need a proper chair to carry on your work with less disturbances.
There are studies that show an increase in productivity and efficiency of a person sitting on a proper chair compared to a person who sits on poor office chair. A poor office chair causes some problems like leg pain or back pain. Sometimes, you don't even know that these pains are caused due to poor chair. Once you visit a doctor, you will get to know that the office chair is the culprit. With such health problems, obviously your time and productivity is wasted and in turn the employers productivity. Hence, buying a proper office chair is necessary for office or home office setup. If you are working from home, there are lot of options that are available in the market that are manufacturing best office chairs. In this article, we are listing out the top 9 best office chairs available in India today. With the recommended list, you can select one and setup office environment at home comfortably. Along with that, we are also providing a buying guide for you to know what features to look at so that you will have an idea on what to buy.
Different Types of Office Chairs
Using a high-end office chair can help to feel relaxed and reducing pressure on your back. Most people sit for hours and face trouble in their back. But, if you know about the types and choose the right one, then you won't have to worry about such issues. For different tasks, there are different types of chairs that you have to look after. Let's have a look at some common types of office chairs –
– 24 Hour Chairs – These are widely popular for their compact design and a great use for long hours of sitting. You can expect better use during a shift of 8 hours, and it will reduce stiffness in the back.
– Big and Tall Chairs – These chairs are effective for individuals and provide a better layer of comfort during their use. These chairs have larger stature, which gives a different aura and feel when you are using them.
– Computer Chairs – Computer chairs are good for a standard computer desk and provide effective use. They have a breathable net in the back so that your back does not sweat at all, and it is an effective choice.
– Conference Chairs – In case you want to get something for meeting spaces or boardroom section of the office, then there are conference chairs with a standard design. They also have basic colors to enhance the ambient look.
– Drafting Chairs and Stools – These chairs have a lever to adjust the height, and there is a small stool section to keep your feet at. The design makes it impressive looking and reliable for a large table at height.
– Ergonomic Chairs – To enhance the comfort level and better your usability experience, there are ergonomic chairs to fulfill the need and provide a better use. Adjust ability reduces stiffness in the back area. To never feel any stiff pain and getting orthopedic support, you can choose this type.
– Kneel Chairs – To take advantage of a natural kneeling position, you can find several designs, but Kneel Chairs are totally effective in that category. They are reliable for long term sitting and relax your feet. If you want to relax properly, this is the best choice.
– Armless Chairs – If you are willing to reduce cluster in the office area and want something minimalistic, then armless chairs are better. They have a compact design with a somewhat acceptable level of comfort.
– Loveseat – Loveseats are known for their premium level of comfort, and they are reliable to place in the waiting zone for sitting. These are large sofas mainly but best for the reception area mainly.
– Stacking Office Chairs – Stacking office chairs are reliable for temporary use, and if it is a small office, then stacking chair provides a better use. These are not comfortable but effective for their use, and it can enhance the functionality.
– Ottomans Chairs – To sit at a lower height, ottomans chairs provide better use and fulfill the need. They are effective as a footstool, and most people like its compact look. Small offices can find it effective for extra stuff or when there are new people.
Best Buy Office Chairs Online In India

Like we have mentioned above, there are lot many brands and companies that release different office chairs for sale. It would be a daunting task to select one of them for your purpose especially if you are looking for that perfect chair that won't give you any pain and you can work in peacefulness. For this purpose, we have done some research and filtered top 9 office chairs that you can select today and add the furniture to your home office setup or your office. Go through these chairs and think about all the features that we provide in the buying guide and based on that go ahead and order one of them through the links that we provided for your convenience.
1. Green Soul Revolving Office Chair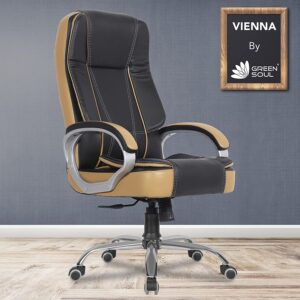 The first office chair from our recommended list is from Green Soul. The company has put its soul to design a perfect office chair for the comfort of the customers. This office chair design is very comfortable with soft leather padding. This gives absolute comfort even if you sit for a long time. The handles are designed with the same padding to allow the user to rest his arms and also work on his laptop comfortably. The important feature to consider in this office chair is that the chair is designed keeping in mind the shape of the spine of your body. So, your spine stays in place without changing its posture. 360 degrees Swiveling function is available which allows you to multi-task. The metal base with the wheels is so strong with 5 PU castors which allow the chair to smoothly move around very easily.
The chair is incredibly easy to assemble. You just need to connect the chair with the base. Every step of the manufacturing of the chair is closely monitored to match the global standard. The leather finish also gives smooth look to the chair. The chair also provides the necessary neck comfort which is very much needed especially for those who work with computers. The lumbar back support provided by the chair is also incredibly comfortable. You have the knee-tilt facility by rocking back and forth using a lever at the bottom. The chair is available in unique vibrant colors and you can go to the link and check.
Pros
Thick cushion for ultimate comfort
Swivel action with 360 degrees and dual caster wheels
Provides neck and Lumbar support
Comes with 3 years warranty
Cons
Packaging can be improved according to some users
2. AmazonBasics Mid Back Office Chair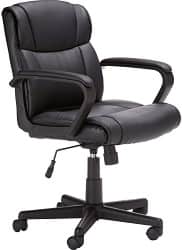 The next chair is from AmazonBasics. This office chair is completely adjustable and hence the chair is at your own comfort. You can either raise your chair or lower it based on your need. You can even tilt back and forth helping you to rock and work on your system for hours long. You have a tilt-tension knob that helps you to choose the hardness in which you need the chair to rock. The chair can even be locked in an upright position. The chair is made of black bonded leather and is well cushioned to provide the exact support needed by the user. There is a swiveling option and also the dual wheel castors help you to move around freely without hassle. The chair helps your back by giving proper shape to your spine. Maximum weight of 124.7Kg person can sit on this chair without feeling uncomfortable. There is a step-by-step installation guide provided with the chair which you can follow easily to assemble the chair. Available in 3 different colors.
Pros
Comes with most of the adjustability features
Padded cushion with leather upholstery
Easy movements with swiveling and dual wheels
Comes with 1 year warranty
Cons
Few users felt that the cushion is not thick enough
3. Green Soul Ergonomic Chair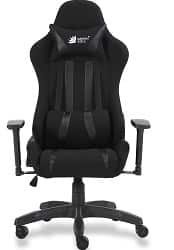 Another great design from Green soul is the Fabric and PU leather Beast gaming chair. The chair is made with high-quality fabric giving you the necessary breathability and airflow. There is only some PU leather material used. This allows for not building any heat and is comfortable to stay in your chair for a long time. The adjustability features are all available in this chair and you can rock from 90 to 105 degrees. You can even lock the position with the tilt knob provided. The wheels are made of nylon and are dual castor wheels allowing for smooth movement. The chair is tested to hold a weight of about 150 kgs which makes this tough and at the same time light-weighted chair.
You can even adjust the angle of your back with an angled backrest. At 120 degrees you can comfortably play games and at 150 degrees you can read a book and at 180 degrees you can completely rest. This is a cool feature. In addition to these, a removable headrest and lumbar support pillows are available with the chair. These provide great support to your neck and back. The armrests are thick and wide and can be adjusted in 3 ways giving you ultimate comfort. The chair is available in different colors which are unique and stylish.
Pros
Excellent breathability and comfort
Rock back and forth while working
90 to 180 degrees angle-adjustable backrest
Smooth movement with wheels
Removable and adjustable headrest and lumbar support pillow
Comes with 3 years warranty
Cons
For all the features that it is offering, this chair is a bit costly.
4. Green Soul Back Mesh Office Chair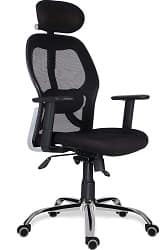 This next chair is again from Green soul and is another unique one. This office chair is quite famous for its features which are great for neck and lumbar support. The design looks cool with a trendy mesh design giving you the required breathability and the frame is made of nylon and glass fiber. This always keeps you cool and avoids any heat that gets produced due to long hours of seating position. The armrest is perfect for your use and can be adjusted accordingly and locked in a particular position. The chair is flexible in office areas and has 360 degrees swiveling and nylon base with durable wheels which have smooth movement without putting much effort. The seat can be adjusted to increase or decrease the height with a pneumatic gas lift. The tilt lock knob allows you to stay in that position locking your required position. The interesting factor about this chair is the assembling part. It is quite easy. You just need to connect two parts.
There is a lumbar support knob at the back of the chair to push the area forward or backward giving your back the required support. The knob needs to be turned clockwise or anticlockwise. Not only this, the headrest can also be adjusted based on your neck requirements. It can be moved up and down or back and forth. The headrest can also be adjusted to rotate at angles required for a perfect posture of your neck. This office chair is available in black color which is classic.
Pros
Breathable mesh design
Free Swivel and wheel movement
Padded cushion with extra comfort
Adjustable lumbar support and headrest support
Comfortable armrest
Comes with 3 years warranty
Cons
5. AmazonBasics Executive Chair – Black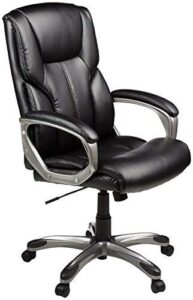 Another office chair from AmazonBasics is the executive chair. The chair is completely adjustable having the seat elevation and rock facility handy. You can also lock this position if you want with the tilt knob. The chair is completely cushioned to provide you the soft comfort when sitting on a chair for a long time. The cushion is made of leather and PVC material and it covers the seat and back part of your chair. Along with that, it also covers the armrest giving every part of your body the comfort needed. The back cushion has curved contours exactly like your spine shape giving you the necessary support for the entire spine.
The nylon castor wheels and 360-degree swivel movement helps you to move freely around and grope for things when needed very easily from your desk. The chair can be assembled very easily with a clear step-by-step demonstration on the assembling part. The maximum weight that the chair can bear is 124.7 Kgs. This office chair is available in 2 different colors.
Pros
Comfortable material with cushioning on seat, back, and armrest
The chair is fully adjustable with all controls that are needed for the chair
360-degree swivel movement and has a nylon base with which the chair can move freely
Comes with a 1-year warranty
Cons
Some customers reviewed the low quality of the chair.
6. Innowin High Back Revolving Boss Chair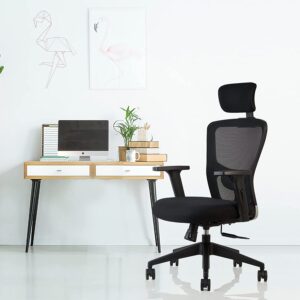 For the buyers who are looking to buy a reliable chair mainly focused on comfort and durability, Innowin High Back Revolving Boss Chair is one of the best choices. The whole internal material is made of wood and there is extra padding across different parts like the seat, back, and armrests and all these are covered with leather making it water-resistant and easy to clean. It is easy to assemble products and there is an instruction guide provided along with the product. The service warranty for the product is 12 months. It is tested across various stages of manufacturing the product and its base is made of sturdy chrome metal. It suits best for any office desk. You can recline back and forth easily between 105 to 120 degrees. The tilt tension knob beneath the seat controls the rate of recline. It has ergonomic armrests that help to put the hands at any time. It is a high back chair and also the weight capacity of the chair is 110Kg. Awesome comfort and ease of assembling and usage make it a highly recommended office chair.
Pros
Sophisticated design with various features.
Flawless operation and accuracy
Leather seating and extra cushion.
Cons
Not many disadvantages to call
7. Savya Home Apex Office Chair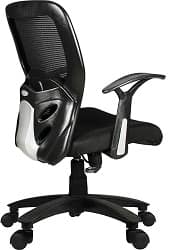 For the buyers who are looking to buy a comfortable office chair Savya, home apex Office Chair is one of the ideal choices. This office chair has a pneumatic gas lift making it easy for height adjustment. It has a 360-degree swivel which adds value to the chair. It is packaged and delivered in a semi-assembled stage and is easy to assemble. It has a manufacturing warranty of 1year. It is a revolving chair and has a lot of extra features. The adjustable lumbar support is suitable for all occasions and comfortably used for long day sitting. The netted fabric for the back and seat makes it easy for you to sit for long hours without much sweat. A larger cushion compared to others helps in providing extra comfort. It has a one-touch height and tilt adjustment. It has dual-wheel casters for easy and smooth maneuver. Product dimensions are 25 x 26 x (38 to 43) inches. It is tested for nearly 100kg. With various options and advanced features, savya home apex office chair is the best product for office usage.
Pros
Amazing design
Flawless operation and accuracy
Multiple features.
Cons
Can't rest the head properly when sitting straight.
8. Casa Copenhagen

Leatherette

Office Chair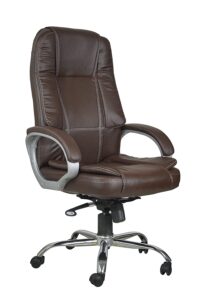 For the buyers who are looking to buy a chair that is comfortable and provides support to the back, Casa Copenhagen TT Collection Leatherette Director's Office Chair is one of the best choices. It has Pneumatic seat and height adjustment options. Along with that, it has 360-degree movement and easy-rolling coasters. The maximum capacity is 113kg. It has padded seat and all-day support for the back which makes it an ideal choice for people who need that extra support. All the coverings are made of leather making it water-resistant. Assembly for this product is very easy and you have to just connect base and seat. It doesn't require any tools for assembly and all the instructions are provided along with the product package. It is manufactured with premium quality and has been designed as an ergonomic chair. With various options helping to provide comfort and support to users, Casa Copenhagen TT Collection Director's Designer Stitch Series Leatherette Office Chair is one of the best choices for office users.
Pros
Comfortable and simple design.
Good back support.
Multiple features and 360-degree movement.
Assembly is very easy.
Cons
9. Cellbell High Back Revolving Boss Chair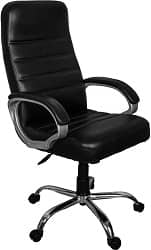 For the buyers who are looking to buy a comfortable and durable 'CELLBELL C99 High Back Revolving Boss Chair' is one of the best choices. The total internal frame of the chair is made of wood and a seat with a synthetic leather cover. There is padding available on the seat, back, and armrests. It is a do-it-yourself product and can be assembled in 30 mins. The user manual is available for the same and assembly video is also available. The service warranty for the product is available for 12 months. The product is manufactured in such a way that there will not be an issue or service needed.
The product is tested multiple times across different stages – Raw material collection, manufacturing, polish, and finish, making it a high-quality assured product. Product dimensions are 127 x 101.6 x 99.1 cm and weigh around 19Kg. Along with overall comfort, it blends easily with home and office decor. So if you are looking for something which is lightweight, comfortable with a good ergonomic design, CELLBELL C99 High Back Revolving Boss Chair is the best choice.
Pros
Amazing design and well-engineered
Easy operation and durability
DIY product with assembly instructions
Cons
Max weight capacity is 110kgs. If you are more than that, there can be discomfort.
How To Choose An Office Chair – Features To Consider
Now that you seen the top 9 chairs that we have recommended, you might still be wondering on 3 or 4 options on which one to buy. You cannot blindly see the recommendations and order one. For that purpose, we are providing here the absolute buying guide that you need to purchase a perfect office chair. Once you see these features and compare them with the items that we have listed, we are sure that you will be clear with a choice on which one to select. So, dive in and know all the features that you need to look at while purchasing an office chair.
While shopping for office chairs, we all know of 2 adjustments, one is height and the other is arm adjustment. These are the basic adjustments that an office chair provides. However, look for all other adjustments that the chair has to offer. Some chairs have up to 14 adjustments which can be quite customizable based on the usage. The more the adjustment types, the more is the comfort. Some important adjustments are tension control, lumbar support, seatback adjustments, seat, and back angle along with regular arm and height adjustments.
The main problem that most of people face is severe back pain due to a lack of back support from the chair. This problem can become severe and may even cause sciatica which is devastating. Always go for an office chair which gives good lower back support. If the chair has lumbar adjustability, then it is even more beneficial and the chair can be adjusted to your back pain needs.
Another main thing that you need to look out for is the swivel base. A good office chair swivels freely and you can easily reach the parts at your desk. If there is no proper swivel base, you might strain your arm to reach some places.
The wheels are the coolest and important part of office chairs. You can move around freely and access the material from your desk or can freely move to your partner to discuss some important issues about work. This is pretty convenient to use. Most of the office chairs have a wheelbase. However, you need to be careful whether those wheels work on a carpet or not. If your workspace is on the carpet, you need to check for wheels that can move freely on carpets.
The material with which the chair is made of is very important. As you spend most of the time of your typical day on this chair, it is important that the fabric on this chair is breathable and ensure that it doesn't become uncomfortable by becoming hot and sweaty. Also, there should be enough cushion on the chair for you to sit comfortably and not feel the base of the chair.
Office Chairs Frequently Asked Questions
Are the office chairs comfortable for long use?
Office chairs are the best way to achieve a comfortable all-day working. With the perfect cushioning and adjustable height, office chairs are the most efficient ways to get the best productivity in the office. With the perfect design, the office chairs are a great option for getting work done without compromising comfort.
Are they as durable as normal chairs?
Most buyers often think that the office chairs aren't too durable especially when you are comparing them with the normal heavy-duty chairs. However, it is not true, if you are buying a good quality office chair, they can easily compete with the high-end durable chairs with ease. Additionally, if you are looking for the best performance and overall value for money, the office chairs would be the best option to go with.
What are the benefits of choosing them over the normal chairs?
There are multiple benefits of choosing office chairs. Some of them are
They are great for all-day use
Can handle the weight quite effectively
Have better cushioning
Easy maintenance
Great value for money.
Apart from these five, there are numerous other benefits that you can explore by choosing a good-quality office chair.
Should we go in the expensive office chairs?
Like the other chairs, office chairs are also available in different budget categories. And depending on your needs and brand preferences, you can easily choose the best product for your office. By going with the expensive office chairs, you can be assured of getting better material, highly efficient design, and a better warranty. Also, by going with an expensive chair for your office use, you can have a product from a reliable brand. So, whether you are after a better brand or value for money, an expensive chair can be a great buy for you. This will be a one-time investment that can serve you for years without any performance issues.
Do these chairs come with a warranty?
Yes. Depending on the brand and budget you have, you can get a decent warranty on the office chairs. The better design and material choice enhance the overall life of the office chairs. So, if you are looking for a better value for money, you should look for an office chair with a better warranty andbrand. Though these are expensive choices to go with, when it comes to value, these chairs are going to be the best choice to make.
Conclusion
These are the top 9 best office chairs that are trending in India. You can have a look at them, select one and order it from the links provided. If you still have some doubts, you can use the buying guide to determine the important features necessary for your purpose. So, stop thinking and start buying some very useful office chairs to relieve your discomfort.