10 Best Laptop Briefcase for Office in India 2022
Laptops have become a part of our life. Every family has at least one laptop to work on different things. You might require it for different purposes. Some of them has work to do in their laptops. They spend around most of the day on laptop. Students also require laptops to do their assignments or use an internet. No matter what your profession is a laptop is a necessity these days. When you buy a laptop, you definitely watch for certain specific features for your use. But, buying a laptop alone is not enough. You need to buy a perfect bag for it to be carried to different places. Without a perfect bag, you are exposing your laptop to physical damage, dirt. With a laptop bag, your laptop is always safe to carry to even long distances.
Before selecting the perfect laptop bag, you need to decide which one to choose based on whether you take it to office, official meetings or just college. Some might like shoulder bags and others might like messenger bags or briefcase. Based on the need, you can filter your choices to specific bags. In this article, we are going to focus on laptop briefcase for office use. We are listing here the top 10 laptop briefcases that you can find in 2021. In addition to that, we are also providing the perfect buying guide that you can use to choose the best bag for you this year. So buckle up and start reading to find these perfect briefcases for your precious laptops and a comprehensive guide.
Best Buy Office Laptop Briefcase Online In India

Indian market has been growing fast with lots of brands and models for laptop briefcases and it is overwhelming to choose a perfect one for your office use. For that reason, we have done some extensive research for you and listed here the top 10 laptop briefcases that you can use in your workplace. These bags are durable, look classy and are perfect for your everyday office use. Go ahead and dive into the products and if you like our list, you can use the links provided to check more details of the product and check out.
1. HP 15.6-inch Duotone Laptop Briefcase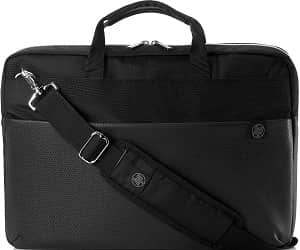 The first item from the list is from famous Brand HP. For securing your laptop bag to rolling luggage this laptop briefcase converts its front pocket to trolley strap. The handles of this laptop briefcase are durable and can be grabbed and taken on the go. There is also an adjustable shoulder strap which you can use to carry on shoulder. The pockets are all padded which will help you to secure your laptop and the company claims to protect a laptop up to a diagonal screen length of 15.6 inch. For organizing your things, there are lots of pockets provided by this bag. These briefcases are even water-resistant which protects the contents inside. The design is very much suitable for a trendy person who is up to date with fashion. This bag is available in 2 styles.
Pros
Adjustable trolley strap
Water-resistant
Padded pockets
Cons
2. AmazonBasics Laptop and Tablet Case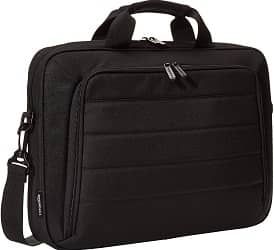 The next item is from AmzonBasics and they have proved for their quality. The bad is made of high-quality polyester material which makes the bag durable. The front pocket has organization panel. This bag can be held in 2 ways, with the handles and with a shoulder strap. If you wish to remove the shoulder strap, you can remove it. There is also a pass-through strap which can be attached to the rolling luggage. The backpocket has a zipper which helps you keep your smartphone easily and safely. This bag is available in 2 sizes.The bag is available in black color which looks stylish.
Pros
Pass-through strap
Front and back zippered pockets
1 year warranty
Cons
3. The Clownfish Vegan Leather Briefcase Laptop bag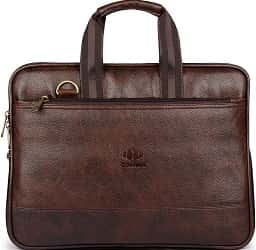 The next bag is a leather bag. The bag is made of highly-durable vegan leather material which is also water resistant. The inner lining is also made of high quality material that is polyester fabric. All the zippers are of high quality and are highly durable. Even though the bag looks thin, it is expandable and the width can be expanded from 3 to 6.5 cms. The laptop is protected with a special cussion sleeve. Along with these, there are 2 additional outer compartments and an inner pocket to organize your things in a comfortable way without being clumsy. It has straps to be used as cross-body and also is very popular among office wear. The bag can fit a laptop up to 14 inches. There are 4 different color options that are available for the bag and all are very elegant.
Pros
High quality vegan leather material
Expandable bag with additional pockets for better organization
1 year warranty
Cons
Some people felt that they compromised on the quality
4. Hammonds Flycatcher Office Laptop Bag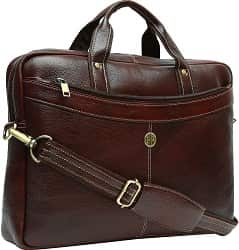 The 4th one from our list is also a leather bag. The material that this bag is made of is from tough leather quality which is 100% full-grain leather. This leather is a special one as it is taken from top layer of buffalo skin which is tough. For this reason, the leather might contain 2-tone colors which makes this bag unique. The organization of things go well with this leather bag. There are different pockets, in which every pocket has a high quality zipper. The bag can be held in 2 ways, with tough handles and an adjustable shoulder strap. All the zippers and hooks look antique made which makes this bag look very unique with style. There are all kinds of pockets with this bag, a cell pocket, pen pocket main compartment etc which makes it easy to organize things.
Pros
Real leather style material
Well organized pockets
1 year warranty
Cons
5. MOCA kinmac 360° Protective Canvas Bag Sleeve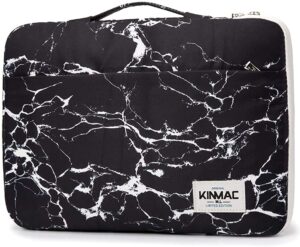 Moca shoulder laptop bag is the next one from our list. This bag is both high quality as well as trendy. This combination is rare to find and is a good advantage of this laptop bag. This bag is made of superior quality fabric which is oxford and has a padding layer made of polyester. To protect your devices from any scratches or for shock absorption there is a soft fabric line. The bag can be carried in 2 ways, using the handles or with the adjustable strap to hang it around the shoulder. The front pocket helps you to store personal items like pen, cell phone, etc., There is a built in foam which is waterproof and shock-proof. The shoulder strap is adjustable to fit for any person comfortably. These laptop bags are available in multiple colors too. You can select from the list mentioned in the link provided above.
Pros
Water resistant and shock-resistant
High quality durable material
Cons
6. Shopizone Laptop Shoulder Bag For Mac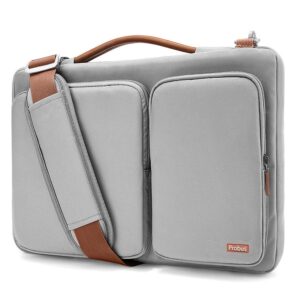 The next item is from Shopizone Laptop Shoulder Bag For Mac. The laptop bag has a secured front pocket with RFID reader. This helps you to protect yourself from thieves. The laptop bag is made of eco-friendly material. Nylon fabric not only feels soft but also is durable and waterproof. The zippers are also made of high quality. The bag can be held in 2 ways, by holding with the handles directly or with shoulder straps to wear it as a sling. The shoulder straps are adjustable and can be removed too. The bag looks slim but has wide pockets to accommodate things perfectly. The front pocket can be used to organize personal things too. There is a back pocket to accommodate documents and this bag can be attached to the trolley as well. The bag comes for different-sized laptops as well as in different colors.
Pros
Waterproof eco friendly material
Different pockets for organizing
Cons
7. Lenovo 15.6-inch Casual Laptop Briefcase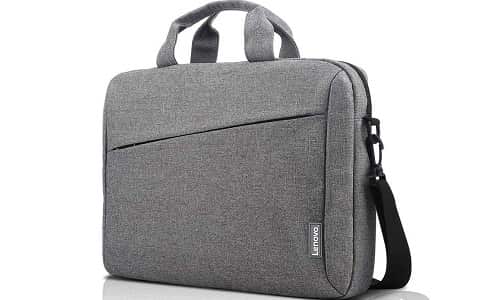 The next bag is from Lenevo also a popular brand. This bag is comfortable to wear and looks trendy too. It goes as casual wear too. The bag is made of high quality material which helps to keep this bag durable. The bag is made of water resistant fabric. Laptops up to 15.6 inch size can be accommodated into this bag. The bag has many spacious compartments for you to fill it with books, personal items, documents apart from the laptop. In addition to this, there are front and back pockets as well for easy access. With a strap, this bag can be easily attached to a trolley. The bag is also available in 3 different colors. So, you can choose from these types.
Pros
Water-resistant fabric
Highly durable material
Spacious compartments with both front and back pockets
Cons
There are some complaints about quality
8. Probus Laptop Bag 13.3″ – Sling Bag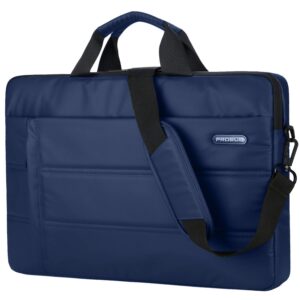 The next item from our recommended list is from Probus. The bag looks bright and is available in blue color. The bag is slim and compact and can carry laptops up to the size 13.3 inches. The bag can be carried in 2 ways, like a messenger bag or like a sling one. The straps are adjustable and can be removed too if not needed. The shoulder strap is made of high-quality PU material. Either way, the bag looks stylish and professional on you and can be daily carried to the office. The handles are also made strong and can be carried even for long times without much pain. The laptop bag doesn't weigh much. It weighs about 812 grams. The outer material is made of polyester and the inner material is made of nylon. Both of these materials are durable.
Pros
Adjustable and removable straps
High-quality material
Bright black color
Cons
9. Sterling Cady Collection Briefcase Carrying Case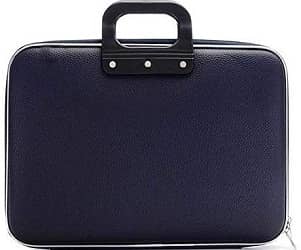 The last item from our recommended list is from Sterling Cady. This bag has an appearance of briefcase and looks classy. This bag gives your laptop maximum protection. There are multiple pockets available in this laptop bag giving plenty of space to notebooks, pens, mouse, charger, documents and any personal items. The material has a leather type finish and is durable with non scratch and waterproof material. The interior of the bag is made with smooth nylon material. These durable material help you give maximum protection. A laptop up to a size of 15.6 inch can be easily fitted in this laptop bag. The bag comes in bright blue color.
Pros
Bright blue color
Durable material
Plenty of space to store personal items too
Cons
10. MSPRO Office Laptop Bags Briefcase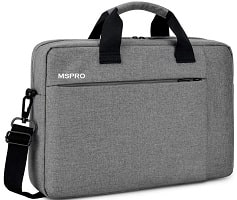 With two small and large pockets, this laptop bag is one of the best available today. This laptop bag is different from others in terms of quality and price. While most laptop bags of the same style and model are available at different price ranges, in terms of quality, the price of this bag is reasonable.
This laptop bag is designed in such a way that it could accommodate 15.6-inch laptops with ease. The ultra-thick padding incorporated into the bag is state of the art. It could protect the laptop from shocks and damages. The material used to make this laptop bag is durable and waterproof as it comes with a protective interior coating.
Pros

Comparatively better than other laptops
Best for 15.6-inch laptops
Ultra-thick padded laptop bag
Lightweight body
Compact size
Cons

The color of this laptop is light, therefore, it could get dirty very soon
How To Choose A Laptop Briefcase For Office – Features To Consider
After seeing the list of items, you might have an idea already on what to buy. But, it is always advisable to lookout for buying guide to get the most out of your selection. In this way, you will definitely choose a reliable and most suitable bag for you to carry to office daily. So, go ahead and read the buying guide before finalizing your laptop bag.
The major aspect to consider while buying a laptop bag is the size of the laptop compartment that allows you to put your laptop. Based on your laptop size, you need to perfectly select the laptop bag. Otherwise, it is completely waste to invest in wrong sized bag.
Check all the compartments and pockets thoroughly to select the best one for you. The more that the bag has compartments the more items you can accommodate along with your laptop.
Make sure to check for material used for the exterior and interior of the laptop bag and also the padding used. This is extremely important to avoid any damage that might occur to your laptop due to pure padding.
If you live in a place where it rains often, it is important to check for the water resistant feature so that your bag doesn't drench in rain and thus damaging your laptop as well as bag.
Check for possible user reviews. These are important if you are concerned about a particular thing, you might get an answer in the user reviews. So, don't ignore such reviews.
Essentials For Your Laptop Briefcase
A laptop briefcase is undoubtedly the best way to carry the laptop for the professionals. Not only these briefcases look amazing, but they also offer great usability that can't be matched with backpacks and laptop sleeves. However, there is still a debate that what you should carry in your laptop briefcase to make it a worthy way to carry the laptop. And although this depends on the user that what thing he prefers to keep in the briefcase, there are a few important things that we consider as essentials to carry in the laptop briefcase
Wireless Combo
The first essential thing that you should carry along with you in the laptop briefcase is a wireless combo. NO matter how comfortable your laptop's keyboard and trackpad are, you will still need a full-sized keyboard and dedicated two-button mouse for added usability. So, if you use the laptop too frequently and want to have precise work perfection, you should carry the wireless combo that seamlessly connects with your laptop and enhance the usability and practicability.
USB Charger for your smart devices and phones
Another important thing to carry along is the USB charger according to the types of devices you use. This not only will help you connect your devices to your laptop, but it will also help you keep them fully charged when you are on the go. So, invest in a good quality multipurpose USB charger and keep it in your laptop briefcase.
Backup HDD
Another important that people often don't usually carry with them is the external HDD. In the modern era of the internet, it is always essential to keep the data safe and secure from the virus threat and hackers. And to make sure that your data is safe, you should have an external HDD where you can easily keep a backup of your important stuff.
Pair of headphones
For the important meetings and conference calls, you can't really rely on the laptop speakers and mic. The reason being they aren't too efficient for professional use.However, to make the calls more efficient and successful, you should think of buying a good pair of noise-cancellation headphones. You can either go for the wireless ones or the wired ones according to your needs and preferences.
A notebook and pen
Another important thing that you should carry in your laptop briefcase is a pair of a notebook and a pen. This will help you make a quick note of essential things that can help you in the long term. So, keep them in your briefcase and use them whenever needed.
Conclusion
These are the top 10 laptop briefcase for office use. Go through each product and check the reviews and extra features from the links that we provided.
Before checking out, check for our buying guide and see whether it covers the features that are useful for your purpose. Also, check whether the laptop bag is within your budget or not.