Top 5 Brands Of Note Counting Machine – Check Before Buying
Do you deal with a lot of cash daily? If yes, then you can understand how it feels to count every single note manually. As a matter of fact, this can be a daunting task for many. Although some people may have an interest in counting notes, this may not be possible to do it every single day. Also, it will not be error-free. So, there is no point in spending a lot of time counting notes manually where errors are associated.  Instead, you can use a note counting machine for this task. The machine can count all your notes in no time that too, with high accuracy. When it comes to note counting machines, you might think about banks because banks usually use these machines to count notes of their customers. But the use of note counting machines is not only limited to banks.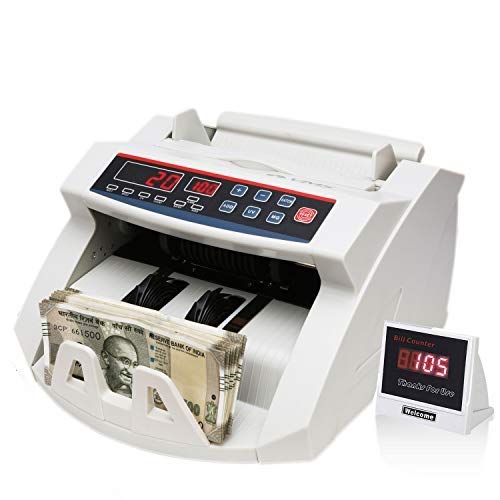 These machines can be used at every place where a lot of notes need to be counted. For example, these machines can be used in retail shops, hotels, small businesses, or other places. Even individuals who deal with a high amount of cash daily find these machines very useful. But purchasing the right note counting machine can be a tricky task. But here is a list of the top five brands to help you in this process. 
Kores 
When it comes to buying good-quality office accessories, the Kores brand is one of the top brands in the Indian market. It has a wide range of office products to cater to the requirements of different people. Different office products of this brand include note counting machines, paper shredders, label printers, and more. It produces the best quality products that take office automation to the next level. The Kores currency counting machines are known for their accuracy and performance. These machines are designed to improve the productiveness of people and count notes with no errors. The Kores note counting machines come with several unique features like UV detection, MG detection, IR detection, and others. The currency counters are designed to work with currency issued by RBI. These note counting machines can count up to 900 notes per minute. 
Ooze 
The ooze note counting machines are popular in the market because of their affordability and superior usability. With an automatic fake note detection feature, this brand produces a range of currency counting machines that fulfill the requirements of different users. These machines feature automatic MG and UV detection that makes your currency counting task easier. Some other features of ooze note counting machines are the automatic start, stop and reset functions. The main advantage of purchasing the ooze note counting machines is that they have advanced detection technology that detects half notes, fake notes, and other things effectively. Furthermore, their compact size makes them a great choice to use in any location. They are capable of counting up to 1000 notes per minute. The Ooze note counting machines are available online for purchase. These machines have self-examination functions for ease of usability. 
SToK 
SToK is a brand that many people trust in the Indian market when it comes to buying efficient office accessories. It produces a wide range of office accessories that can be used in all kinds of machines conveniently. The SToK note counting machines are one of the best products in the Indian market. These machines are designed to save the valuable time of people and help them grow their businesses. These machines are capable of counting up to 1000 notes a minute. When it comes to accuracy, the SToK currency counting machines are up to 99% accurate. Therefore, you can expect correct results from these machines. They include UV, MG, and IR technologies to detect the fake and half notes with no error. Some models of this brand also come with an extra display to show to a third party if needed. So, by using these note counting machines, you can ease your note counting task and make it faster. 
Godrej 
Godrej is a leading brand in manufacturing home, kitchen, and office appliances. Most people in India know this brand, and many people prefer using the products of this brand. It is also known for its broad range of furniture for offices and homes. However, this brand is a good example of engineering excellence and making the best quality electronics appliances for people. It produces note counting machines with advanced features by understanding the needs of different people. With the compact and convenient design, these note counting machines can be used in all kinds of offices effectively. The brand takes care of the customer's needs and provides all the benefits to them. With MG, IR, and UV detection features, the Godrej note counting machines can take your currency counting task to the next level. Automatic start and stop are some special features of Godrej currency counting machines. 
Bambalio 
Being a part of Trendz Paper & stationeries Pvt Ltd, the Bambalio brand is very popular in the Indian market. It is mainly focused on making office accessories that fulfill the daily needs of people. The best thing about this brand is that its products are of superior quality. It ensures to take all the quality measures while manufacturing and provides excellent quality products for people. The currency counters of the Bambalio brand are highly efficient and include several features like MG, UV, and watermark verification. These machines are also very easy to use. They can count up to 600 notes per minute while saving your time and labor costs. 
Conclusion 
Currency counters are not new in the Indian market, but they are now getting popular day by day. They are making people's life easier by counting a large number of notes in minutes. Apart from this, they also detect fake notes and half notes. All these features make them useful for several businesses. But these machines are produced by many brands and sold in the market. To select a good note counting machine from the market without getting doubtful, this article will help you.