10 Best Biometric Attendance Systems in India 2022 – Expert Reviews & Guide
Biometric attendance systems make the attendance recording process easier and accurate. These systems can be installed in any place where the daily attendance record is required, such as office, organization, school, college, medical, etc. In these places recording attendance manually is a tedious work and there are chances of recording wrong data. So, biometric attendance systems are used to make the process easier and smarter. Biometric attendance system provides accurate information and takes less time to do the job. It makes the attendance recording process fun and allow to record the real entry and exit times. So, by using a biometric attendance system a business owner can increase the productivity and manage the activity of employees. The biometric attendance system is very useful for an organisation as it helps to track the attendance of the employees in each shift and record them to produce the monthly attendance report.
Best Buy Biometric Attendance System Online in India
Now the question comes; how can you choose the best biometric attendance system for your business? To know the answer, kindly read the article till the end. If you are looking for a biometric attendance system to help you in recording attendance of your employees, this article will guide you. We have made a list of 10 best biometric attendance systems in India which will provide you value for money. The following list of biometric attendance systems are the best products we picked from the market.
1. BioMax Fingerprint Biometric Attendance Machine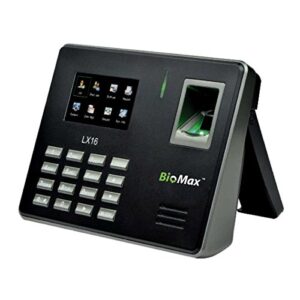 Green Book solutions designed this device to help all small and large businesses in managing their workforce. This device is equipped with IOT and cloud to ease your work. It has mobile and web connectivity so easy to assess from anytime anywhere. The device is affordable and easily accessible product in the market. It is compatible with both IOS and android platforms and simple to use. It provides an economical and technological way to track your employees' records. The device can be accessed on laptop, tablet or computer without installing any extra software.
The unique design and the use of latest technology make this device an amazing product. It provides live tracking and unlimited cloud storage facilities that you should consider while buying this device. When you install this device in your office, you no need to worry about the security of the data stored in this as it provides the latest security features that you can ever expect in a biometric attendance system.
Features
It can be controlled from mobile app and web server.
The device is made with the latest technology and easy to use.
High security system allows you to be assured about the data stored in this device.
It provides free access to the cloud server for 45 days.
2. Realtime Biometric Attendance System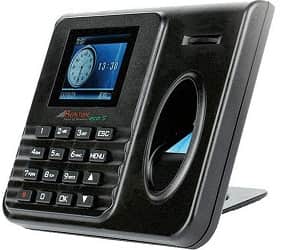 It is a unique attendance system that provides an excel output. It has a 2.4 inch TFT true colour LCD with 320 x 240 pixels for the visual interface with users. The device can be operated in offline mode and requires 5VDC to start the operation. It uses three methods to record the attendance of the employees – fingerprint, password and RF card password. It works very fast as it takes only 0.6 seconds to verify the data. The device is capable of recording 1000 fingerprints and 100,000 attendances. It has inbuilt automatic reporting system that generates the attendance reports in excel format. The output can be taken on a pen drive or through a USB cable to a computer.
Anyone can purchase this device to manage the workforce of his/her business as it provides great value in low price. The best thing about this product is it can work in a temperature range of – 10 degree Celsius to + 60 degree Celsius. The size of this product is 20 x 8 x 16 cm and the weight is 522 grams.
Features
It provides three methods to record the attendance.
It requires less power, i.e. only 5V to operate.
The product has a warranty period of one year.
3. CP Plus Fingerprint Reader Machine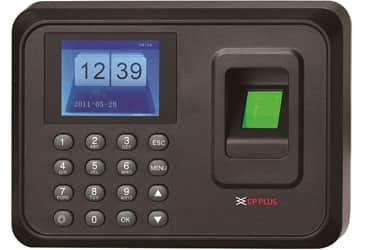 The device is loaded with latest features and an optical sensor to read the fingerprints. It is very affordable and can be purchased online. It has a 4 inch LCD with capable of 480 x 320 pixels. The high quality device can identify the user by fingerprint, password or EM card. You can use anyone of the above options to interface this device with your workforce.
It has a failed recognition rate of <=0.0001% and false acceptance rate of 0.01%. The recognition speed of this device is less than 1 second. It uses WS306 hardware platform and USB flash drive. The size of this product is 9 x 9 x 9 cm. Up to 1000 fingerprints can be recorded in this device. The storage capacity of this device is 100,000. If you are thinking to buy this product for your business, you should know about the features of this product and decide to buy this product or not.
Features
The device is accessible in three ways and easy to use.
Fast operation and less chance of providing wrong data.
It has an LCD for showing the time and other data.
4. Realtime Biometric Attendance System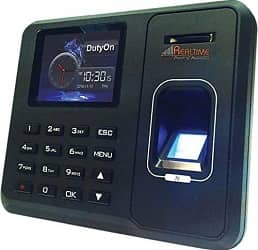 If you are looking for a simple attendance system to manage the employee records and increase your productivity, Realtime T5 is a best option for you. It has a colour TFT display where you can make the settings and view time and other data. It is a great device using which you can track entry and exit time of your employees and record the attendance easily. Realtime T5 can be accessed in three ways – fingerprint, pin access and card entry. Any type of business can use this device to record the real time attendance of the employees.
Realtime T5 has a compact design and available in an affordable price to purchase. The weight of this device is 490 grams. The device has a size of 15.8 x 2.5 x 13 cm. Up to 1000 users can be registered on this device. It has a capacity of 200,000 transaction records and 200,000 attendance records. It provides excel output through USB drive.
Features
It doesn't require installing any extra software.
Simple technology and improves productivity.
Excel output is available through USB drive.
5. ESSL Standalone Biometric Attendance System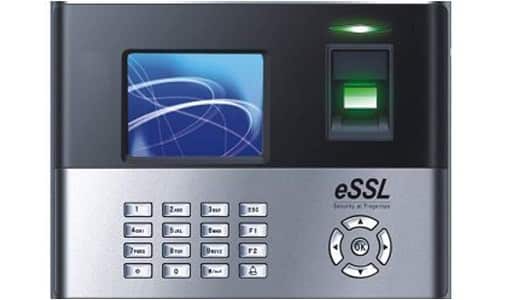 It is an amazing attendance recording system which is capable of registering up to 3000 users. If you are looking for an attendance system with this capacity, then this device is a great choice for you. It has a fabulous design and the latest technology that anyone will wish to buy this product. It is a standalone device so doesn't require any software for control. Its colour TFT display makes the operation easier. The device is designed to record the attendance and manage the workforce positively. It is very helpful for the payroll system of any organisation.
The device uses a 32 bit high speed processor and an inbuilt USB drive to send the output. The output data also can be transferred using TCP/IP, RS232/485 communication cables. It has a DPI optical sensor that reads the fingerprint without any error. The device has a door lock system so you can use this device in certain rooms of your office to allow the employees with their id. It will be easier for you to manage their activities. The weight of this product is 1.52 kg and the size is 26.8 x 23.5 x 9.5 cm.
Features
ESSL X990 is capable of 100,000 transaction records.
It has a door lock feature and easy to manage the attendance of the employees.
The output can be taken through USB, RS232/485 and TCP/IP communication cable.
6. ZKTeco Biometric Fingerprint Attendance System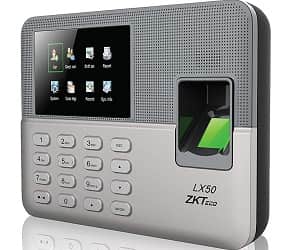 ZKTeco LX50 is a great attendance recording system that records the attendance in a smart way. This device has a robust design and looks very attractive. It uses a 2.8 inch TFT display, which helps the user in setup and the setup of this device is easier than other devices available in the market. This display uses less energy compared to other displays. The device has an USB host and client for reading the output in excel form and vivid interface for fingerprint image quality and verification results. It has built in SSR excel software system for the operation and don't require any external software.
The fingerprint capacity of ZKTeco LX50 is 500 so you can add up to 500 employees' data on this device and manage them according to your requirement. The recording capacity of this device is 50,000 and can be operated in 0 degree Celsius to 45 degree Celsius. This device has a weight of 499 grams and size of 18 x 3.2 x 13.2 cm.
Features:
It uses self service recorder which helps to generate the employee's data in excel format.
The device has both USB host and client to download and upload the report.
Uses high quality display that consumes less power.
Has an amazing design that feels very good to use.
7. ZAICUS Biometric Fingerprint Time Attendance Machine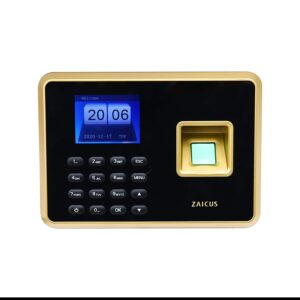 It is an advanced time and attendance management system that helps the businesses in tracking their employees' records. It is a user friendly product and easy to use with real time tracking system. The product has the latest features to provide you a better experience. It has a fingerprint feature which can be recognised in less than 1 second. The 4 inch colour display helps the users to use the device. The 1:1 and 1:N recognition ways make the product more attractive.
ZAICUS A6 2.4 inch Color TFT Screen Biometric Fingerprint Time Attendance management system supports up to 500 users. The device can be accessed by password, fingerprint and pin. The storage capacity of this product is 100,000. The size of the device is 20 x 16 x 16 cm and the weight is 903 grams. If you are looking for a better attendance management system for your business, this attendance biometric system will be perfect fit for you.
Features
The device has three types of access methods.
Up to 50 users can be registered on this device.
It includes an optical sensor for fingerprint recognition.
Navkar Systems Hikvision Attendance Machine is a high-quality device that runs on 5V DC. It has an inbuilt automatic report generation system that automatically generates the attendance report in excel format. The output can be taken through a USB interface. It uses an optical sensor to read the fingerprints. The device is equipped with 2.4-inch colour display to interface with the users. It doesn't require any software to install as the built-in system takes care of all the functions. It is a good choice for the people who are looking for an affordable device to offer a great value.
The latest features of this device make it stand on the top among its competitors. This device has a user registration limit of 1000 and can be accessed with fingerprint, RF card and password fingerprint. The operating temperature of this device is – 10 degree Celsius to + 60 degree Celsius. The fingerprint verification speed of this device is 0.6 seconds. The excel output report can be generated directly by pressing the OK button.
Features
It has two fingerprint verification modes – 1:1 and 1:N.
The device can record up to 100,000 attendance reports.
It has one year manufacturer warranty.
9. Time Office Fingerprint and Card Based Attendance System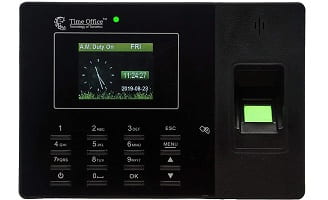 Biometric attendance systems need to be fast and efficient, but, most of them do not offer this. However, this biometric attendance system is one that caught our eye as it comes with a durable body and features. The USB connectivity feature of this biometric attendance system is fast and efficient.
This fingerprint scanner device comes with a card reader and password facility which is commonly not provided in most biometric attendance systems. However, at this price range, these features are unique. This biometric system could record up to 1000 fingerprints and prepare excel report with ease. The 2.4-inch TFT color display is yet another attractive feature incorporated. This biometric attendance system has a voice indication system that alerts the user if the fingerprint is scanned and recorded.
Features
USB port connectivity
1000 fingerprint, password, and card reading capacity
600 DPI sensor
2.4-inch display
Excel report feature
Cheaper than other fingerprint readers
10. SBJ B1 Bio-Metric Time Attendance Access Control

SBJ B1 finger TCP/IP biometric attendance system is one of the premium attendance systems that comes with almost every advanced feature on the market today. This biometric attendance system could be paired with a smartphone and the attendance report could be accessed through the app.
While the price of this biometric attendance system is higher than others, the features that come incorporated are of high-quality and efficiency. This biometric attendance system has a card reader and password facility incorporated as extras. This, in turn, would allow the user to copy the attendance records to a card and lock the attendance to prevent unauthorized access.
Features
Smart connectivity
Monthly and daily attendance report option
Easy access to the fingerprint sensor
Easy to use
Card reader incorporated design
How to Choose a Biometric Attendance System In India

You wish to use biometric attendance system in your office to ease your work and you expect some amazing features from that device to get accurate results. So, the features you should consider while buying a biometric attendance system are listed here. It will help you to decide which product you should buy to get the best out of it.
Fingerprint storing capacity
This parameter determines the number of fingerprints or the number of users can be registered in a device. So, the device that has the highest number of fingerprint or user registration capacity is the best one. The businesses that have more employees should choose a highest fingerprint storing capacity device. Smaller businesses with fewer employees should also choose a device with high fingerprint storing capacity so that the device can function when the business expands and the number of employees increases.
The device should be flexible enough and compatible with the platforms like IOS, web and android. It should be easy to use and access. A flexible device can be adopted by your employees easily.
You should choose a device with better security features so that the data stored in the device will be safe. The device should be equipped with the advanced security features so that it can't be hacked easily. If the device has a weak security system, the data may be stolen or modified inside the device easily.
Universality and access control
While choosing an attendance management device for your office you should ensure that the device is easy to set up and use. The modification in the setting should be easy and should able to do multiple times.
Biometric attendance management device is used not only for attendance recording, but also for the security purposes. It blocks the entry of the unauthorized personnel to some secured rooms of the office. So the device you are going to buy should have an access control feature so that you can use it for security purposes.
Time of recognising the fingerprint
The main objective of fingerprint enabled attendance management system is to reduce the time in recording the attendance and use it to do the office work to increase productivity. The device you are selecting to install in your office should work faster and recognize the fingerprints quickly. It should do it within a second and let the person to enter the office. This feature is very helpful for any office.
Remote access feature for the remote employees
This is a must have feature in the biometric attendance system if you have so many employees those are working from the remote places. The device should have a software facility to track the attendance of the remote employees in office hours. This helps the remote employees to give the attendance and the employer to manage the attendance of the remote employees. This feature allows the remote employees to work easily from any remote location.
Integration of the attendance management system with the payroll software
This feature provides benefits for both employee and employer. It enables the employer to access the real entry and exit times from the payroll system itself and to calculate the salary and bonus for the employees. This eliminates the error of entry and exit time, so that the employees get paid for the actual time they worked for. Over time, half day and full day everything can be noticed with the help of this feature so that the employees get the money for the time they worked. It makes the employees happy and happy employees work better than the frustrated employees.
It is a must include feature in every biometric attendance system. Though the biometric attendance systems are easy to configure and use, there are some cases where some problems may arise and you may need the help of an expert. This feature enables you to seek the help from the company directly and resolve it. While you are selecting a biometric attendance recording device, you should always include customer support among your priorities and choose the company that provide the best customer support features.
Should have the facilities like battery backup and USB connectivity
A device with enables battery backup allows operating in case of power failures. If there are less chances of power failure in your office, you can ignore this feature.
USB interface helps the user to take the output from the device. If the device offers wireless communication options, this feature can be neglected.
Expect the above features you can consider other features also according to your requirement.
Biometric Attendance System FAQs
1. What are the key advantages of the Biometric Attendance System?
In case you have a large office, and you want to allow employees to enter the building, then the Biometric Attendance System is effective. You can know about check-in and check-out time, which will help you keep records of all the employees. You can know about attendance time and ask your employees to come on time in case any of them are always late. These systems are also effective for gyms, pools, and such other places where users need a membership. Apart from safety, keyless entry is the great advantage to expect.
2. How Safe Biometric Attendance System Locks are?
Biometric Attendance System is pretty reliable to keep strangers at bay and not letting them enter. These systems usually take attendance and open the door. There is a large electromagnet connected to the door, which keeps it shut. If someone fails the power-supply and uses strong magnets, then these locks are hard to crack. For common use, anyone can rely on these systems and get better usability over the other options. These are cheap and fulfill the need in an effective manner.
3. How to Choose an adequate Biometric Attendance System?
In order to get the best Biometric Attendance System, you need to take a look at several important aspects. Here we picked some key aspects that you should be considering to grab the right product. Always start with the using method because the interface should be easy and connected to a PC to take attendance. There is a need for a locking method and type of biometric system. There are eye-scanner and finger-print scanner which can serve the need and get you the best product in an easier manner. The last aspect is to look for the type of software it supports so that you can expect a convenient use.
4. Is Biometric Attendance System Compatible with Mobile?
Yes, most Biometric Attendance System is compatible with smartphone, and they offer you feature like tracing from your smartphone. You can also unlock doors using this method, and chances of facing issues reduce. The convenience increases by this method, and you can expect better usability so far. To connect your smartphone, you need a smart app, and then you can track users and such other factors without any problem. Make sure that you check this feature during the purchase time.
5. What's the common lifespan of a Biometric Attendance System?
A quality Biometric Attendance System can easily last you for more than five years with effective usability. It has less moving parts, but the thumb-scanner starts causing the issue because it slows down after such years of use. Repairing or replacing the Biometric Attendance System will be an effective option. The premium options can provide better durability, but using it for more than five years is a bad option. The durability also depends upon this factor in how much employees have been checking in with this system.
Bottom line
By recording the attendance with a biometric attendance management system the time consumed in the manual attendance recording can be reduced and the employees can spend more time with their work. In fact, this produces accurate results with which both the employee and the employer agree. In this way it reduces the conflicts caused due to wrong attendance inputs. Therefore biometric attendance management system is a must have facility for an organisation.
The products listed in this article are the affordable ones which you can use in your office.